Botanicals By L'Oreal Paris Safflower Rich Infusion Conditioning Balm 200ml
Botanicals By L'Oreal Paris Safflower Rich Infusion Conditioning Balm 200ml
Description
Ideal for dry hair
- Associates our Botanical complex with a rich infusion of safflower
- Nourishes, replenishes and softens dry hair
Description
- A sophisticated scent with oriental accents. To safflower, we added oriental base notes of amber, vanilla and cashmere wood, taking you and your hair on an aromatic journey! 
- A pearly white texture, at the crossroads between cream and milk … A genuine touch of kindness to your dry hair.
Benefits
Botanicals Safflower Rich Infusion Conditioner brings you the best of an oil and a conditioner. It nourishes lengths and ends without leaving an oily feel. Our botanists and chemists can be proud of themselves: They've managed to craft the perfect conditioner for dry hair.
Our commitments
- Our conditioner is free of silicone, parabens, and artificial coloring.
- Our packaging is made from 100% recycled materials (except for the dye) and is as easy for you to recycle after use —make sure you do!

Beauty Tips - Leave Botanicals Safflower Rich Infusion Conditioner for two minutes in your hair. Then comb your hair with your fingers, and enjoy its fresh, soothing aroma.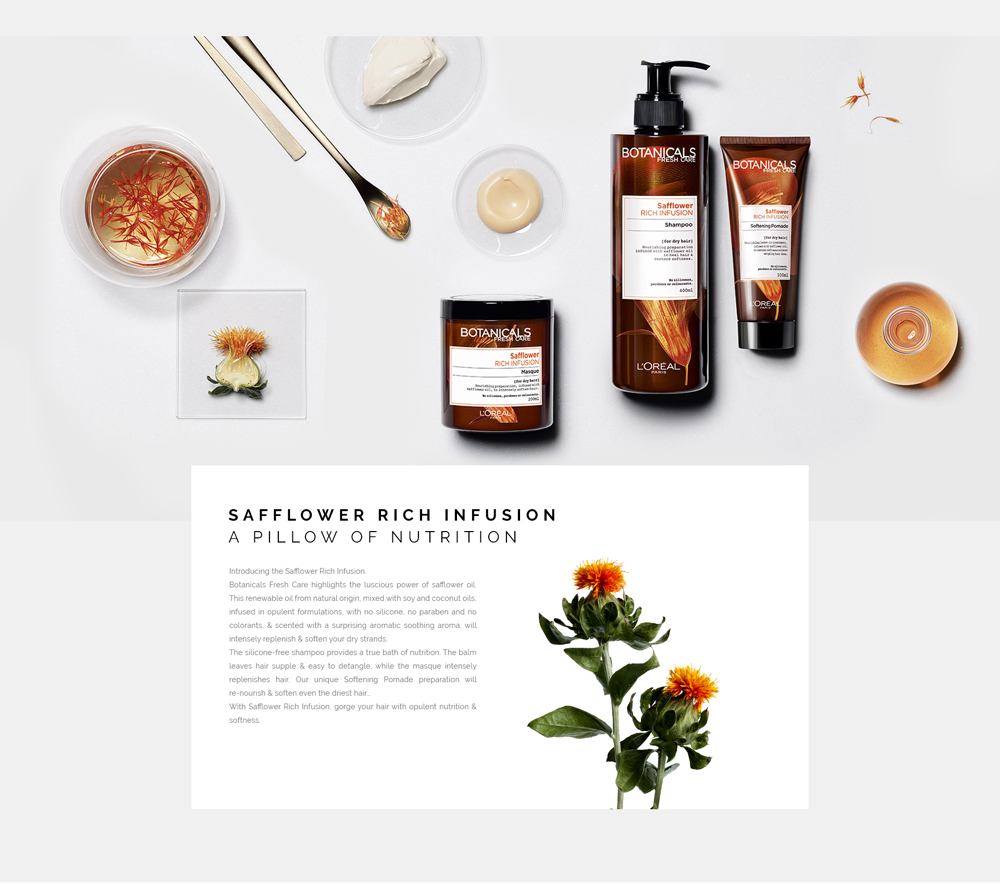 SAFFLOWER – Range
Rich infusion – Safflower oil
Nourish your dry hair to great lengths. Increase sliding and avoid split ends
Introducing Rich Infusion.
Botanicals freshcare highlights the unknown power of safflower oil Mixed with soy and coconut oil and process by Green chemistry, this biodegradable and renewable oil of natural origin will save you from the painful effects of dry hair.
The silicone-free shampoo provides an abundant lather and leaves hair especially easy to detangle. The balms were inspired by a Brazilian technology and leave hair supple. And the pomade provides an evn more significant nourishing effect.
With Rich Infusion, the quality of hair surface will reach unprecedented level. A shower of benefits !