Botanicals By L'Oreal Paris Camelina Smooth Ritual Conditioning Balm 200ml
Botanicals By L'Oreal Paris Camelina Smooth Ritual Conditioning Balm 200ml
Description
Ideal for unruly hair.
- Associates our Botanical complex with the most potent cold-pressed camelina oil
- Nourishes & smoothes unruly hair
Description
A sophisticated scent with oriental accents. To camelina, we added oriental base notes of amber, vanilla and cashmere wood, taking you and your hair on an aromatic journey! 

A fine pearly cream, firm and rich, a genuine touch of kindness to your unruly hair.
Benefits
Botanicals Camelina Smooth Ritual Conditioner detangles lengths & smoothes your hair, leaving it supple & with a fresh exotic aroma. Down with unruly hair!
Our commitments
- Our Conditioner is free of silicone, parabens, and artificial coloring.
- Our packaging is made from 100% recycled materials (except for the dye) and is as easy for you to recycle after use —make sure you do!
Beauty tips - Leave Botanicals Camelina Smooth Ritual Conditioner for two minutes on the lengths. Comb your hair with your fingers while enjoying its fresh, exotic aroma.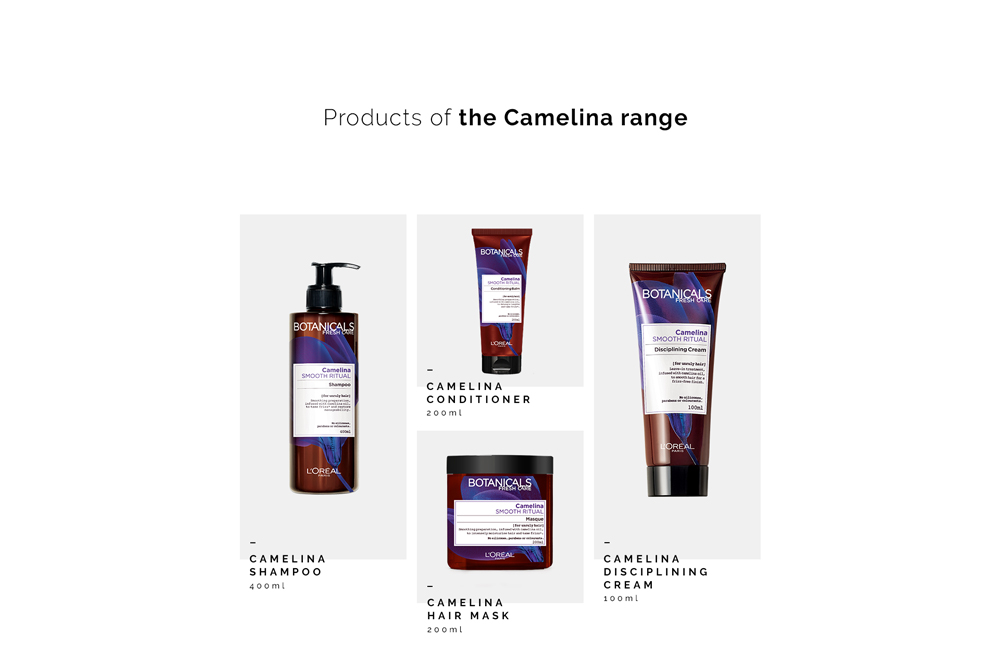 CAMELINA – Range
Smooth Therapy – Camelina oil
Show who is the boss. Control smoothly the rebel that is in your hair.
Introducing the Smooth Therapy.
Botanicals shares with you the secrets of Camelina oil or "gold-of-pleasure"… This rarely-known delight of oriental culture was once rumoured to cure all except death !
One this is sure, no need to bet on it… Wah after wash, application after application, shampoo, mask, balm and leave-in conditioner will master your rebel hair.   
Its aromatic scent with oriental accents will get to your hair!